"Okay So Ask Yourself This...If A Disaster Suddenly Struck Your Community, Do You Feel Like You Are REALLY Prepared?"
Disaster Central has Launched!
Do you feel extra vulnerable because you have a disability or depend upon a caretaker that may or may not be there for you?
Do you know that you need to practice more preparedness with your family and loved ones but don't know how to? Because let's face it: preparing for a disaster is painstaking like preparing a will or doing your taxes. Not fun.
'
If you do experience a disaster, how do you gain assistance and where do you begin?
Are you concerned that you don't have adequate insurance to protect yourself now?
Do You Tell Yourself?
"I will deal with it when it comes"
"Too much on my mind to think about that"
My insurance will cover me (that is if you have sufficient coverage)"
"Well, preparedness is expensive and time-consuming."
We Need Your Help to Build This!
Support Us and Receive Version One as a Gift
*A Little About Me*
My name is John Romano and the idea for the B-READY app came to me after surviving a prolonged power outage during Hurricane Sandy, as I was a small business owner who was stranded after a hurricane.
I was forced to evacuate my home and office; I had no way to make sure my employees were safe and informed, that my business would bounce back, nor that emergency plans were in effect. It took me many days to recover all the information I needed for medical purposes.
During that time, I realized that I could not be there for my company employees, family, and pets until I was situated and had a plan. These terrible circumstances got me thinking: there had to be an easier way to secure the safety of myself and loved ones while at the same time being able to communicate with co-workers and get back to work as quickly as possible.
With the Disaster Central's app, we hope to make small businesses more resilient, make people feel more secure, and make being panicked during an emergency a thing of the past.
Support Us and Receive Version One as a Gift!
Who is Helping You Figure This Out?
Introducing the B-READY App! The B-READY App is a natural ally to government agencies, insurance companies, non-profit relief organizations, and various civic organizations advocating for one or more of the aspects of preparedness, recovery and emergency management.
As a matter of fact, the company is training representatives to offer stand-and-deliver workshops outlining the features and benefits of the B-READY App for civic organizations, social service agencies, allowing these organizations to determine which unmet needs to focus on for disaster aid recipients.
The government can't always be the solution to disasters. The key consideration is preparedness and why it is so important. The B-READY App can play a vital role in emphasizing this message.
*Types of Disaster*
Acts of Terrorism

Biological Disaster

Civil Unrest, riots, protest and shootings

Cyber

Drought

Earthquakes

Extreme Heat

Famine

Flooding

Industrial & Urban

Landslides & Sinkholes

Nuclear

Epidemics

World & Regional

Storms

Tornadoes

Transport

Tsunamis

Volcanoes

Wildfires

Winter Weather & Cold Weather
*Why We Need Your Help*
Disaster Central's app is being presented to both individuals and businesses. The prototype is build but we need to finish it up.
Businesses interested in securing their employees' safety and enhancing their company's resiliency will be able to purchase the app. Larger businesses will be able to put their branding on it and supply it to their staff and their families.
Distributing the B-READY App throughout a company enhances individual' success during and after an emergency and makes it much easier for individuals to aid their company. Small businesses are likely to close their doors after a disaster, but by increasing their staff's availability after an emergency, they may have the manpower to survive.
Disaster Centrals app is the future of Emergency Preparedness and Business Continuity. We need your help to finish up this unique app which is available no place else.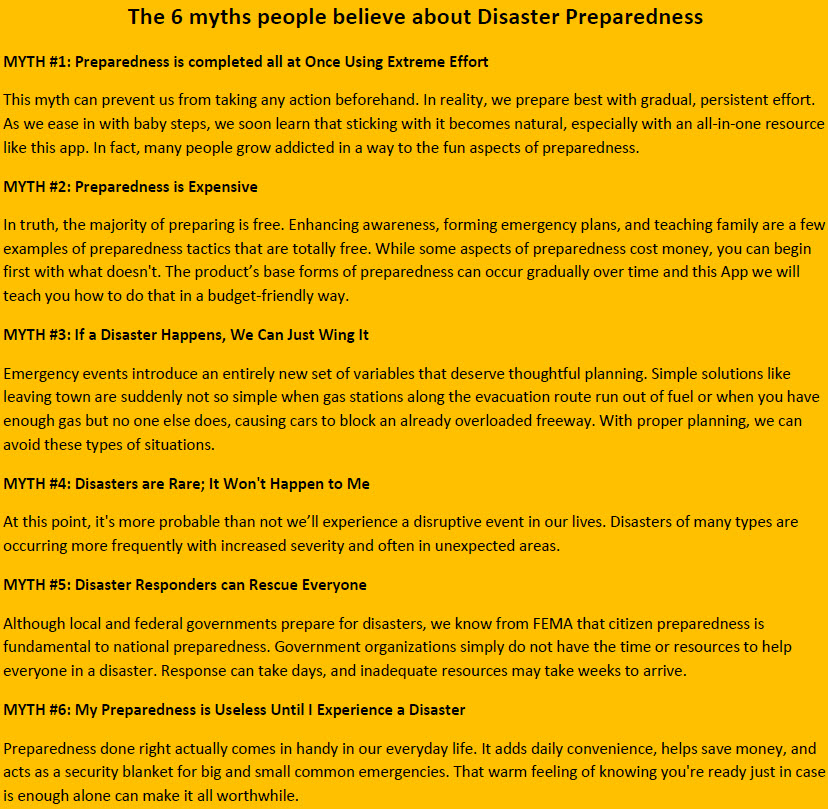 We Need Your Help to Build This!
Support Us and Receive Version One as a Gift!